Just because we're practicing social distancing doesn't mean this isn't another #HotGirlSummer! 
Now that summer is officially here, we're all gearing up to enjoy some fun in the sun. But what are you going to wear? What's your fashion inspiration for Summer 2020?
If you're clueless about what looks are in style for the summer, Suppliedify has crafted a well-curated selection of some of our most popular on-trend items for Summer 2020.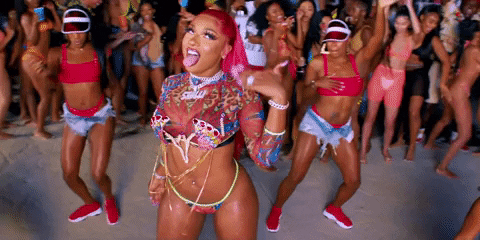 Are you tired of wearing the same basic sunglasses? Protect your eyes while remaining fashionable with our Vintage Fire Flame Sunglasses.
These stylish sunglasses are perfect for car driving, vacation, travel, outdoor activities, social gatherings, casual fashion, and Sunday Brunch.
Delicate frame with stylish decor, full of flavor, and sketched out with graceful curves. The comfortable design can adapt to different nose shapes and reduce the burden of long wear with no pressure. 
Make money not friends! Well, if that's how you feel then let them know! Shop our Women's Statement T-Shirt and Biker Short Set.
This stylish two-piece set comes with custom statement t-shirts that don phrases like "Make Money Not Friends" and "Know Your Worth and Then Add Tax". The comfortable biker short set comes in two different styles and four colors. 
The perfect fashionable outfit for stepping out or running errands while also making a statement. 
Want to embrace a more bohemian style this Summer? Well, shop our signature collection of Women's Boho Chic Summer Dresses. 
The dresses come in 22 different styles and colors that have a natural flow and classy look fit for any summer occasion.
Show off your sophistication and sense of self in one of our Boho Chic Summer Dresses. Perfect for a day in the park, weekend brunch, or a family cookout. Stay chic and comfortable this summer in one of 22 trendy and graceful dresses. 
Come through dripping in our Liquid Diamond Dripped Sunglasses! The perfect look for Summer. These trendy frames stand out and ooze in style and originality. 
The unique frames come in colors Red, Black, Blue, Navy, Purple, Pink, Brown, and Yellow. The adjustable nose rim makes these frames suitable for faces of all sizes. It contains rimless gold frames that are stylish and match with a variety of looks. 
The sunglasses ship FAST from the United States and arrive within 13 business days!
The versatile blouse that can take you from work during the day to an evening out with friends. Our Women's Sleeveless O-Neck Blouse is the perfect chic look for Summer!
Made with high-quality cotton, this blouse comes in five stylish colors that match any and every occasion. The shoulders contain safe and comfortable padding that gives this blouse a sleek look of uniqueness and sophistication. 
It can be worn as a shirt during the day and elegant blouse during the night. This will be the blouse you want to keep forever. 
Ladies, show off those killer curves and banging bodies in our Ruched Crop Top and Biker Short Set!
This bodycon 2-piece set is the perfect look for Summer! Bring all the boys to the yard and make your friends jealous in our super cute, flirty, and comfortable Women's Ruched Crop Top and Biker Short Set.
This 2-piece set comes in two colors (black and khaki) and three versatile sizes of Small, Medium, and Large.  The flexible stretch material it's made with fits to bodies of various sizes. Conforms to body shape. 
Top off your casual look this summer with one of our Unisex Dad Hats. The universal stylish look that can be worn with any look
Fashionable 100% brand new and made with high-quality material! The vintage washed effect gives our Unisex Dad Hats the trendy look you're looking for. Made of premium cotton and comes in Red, Black, Navy, Blue, Grey, Brown.
Psychadelic swirls are back in style ladies! Shop our Tie-Dye Printed Long Sleeve Short Set. The perfect fashionable loungewear for sitting around the house or stepping out for the day.
Make your TikToks in style with this eye-catching short set. Stretchy material makes it comfortable for women of various sizes. Multi-function look that can be worn during the day or to bed.
This two-piece set comes with a long sleeve top with matching biker shorts. Made with soft premium cotton. This set can be worn as Loungewear, Nightwear, or Daywear. Comes in Black, Blue, Purple, Navy, Grey, Pink and sizes S, M, L, and XL.
Summer is here Ladies! Time for the Summer Fashion! Show off your killer curves in our Spaghetti Strap Midi Bodycon Skirt Set!
This sexy 2-piece set is made with stretchy material that can fit around various body sizes. Turn heads and break necks in this attention-grabbing look! Made with cotton and polyester and comes in colors Khaki and Black. Sizes: S, M, L, and XL.
Looking for the perfect comfortable sneaker to match your summer looks? Shop our Women's Flat Platform Sneaker.
Get the look your favorite celebs and influencers are wearing and sport it in style. These sneakers come in three stylish colorways that will fit trendy fits for any vibe. 
The sneaker is made with cow split leather and durable rubber to last well past summer. The sneakers come in 3 stylish colors of Pink, White, and Green.
No matter your vibe for Summer 2020 ladies, Suppliedify has you covered. Step into your Hot Girl Summer in style!